Makeover is an overall beauty treatment that is intended to change or improve the appearance. I can still remember what my friend told me if ever she won the Extreme Home Makeover. She loves to cook, that's why she wants to have a fabulous kitchen where she can do everything. It would be a lifetime dream to have what she wants.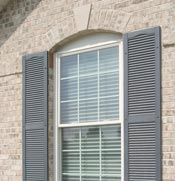 But for now, she will set aside that dream and she will start cleaning and organizing their house. I wish I am there to help her clean just like what she did to me by helping me clean our house. I keep telling her that it would be fun for us to clean their house. I reminded her about their windows that it needs cleaning before they can put
exterior shutters
. The shutters will enhance the appearance of their window which I think will look really nice. She also told me that she wants to change the color of her wall to green. It would be nice if its emerald or fern green but whatever color she decides for her wall, I am sure that it's a nice color. I cannot wait to see the transformation of their house in the picture.