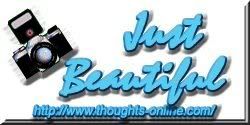 Join the fun every Wednesday at
Thoughts Online
where you can post your beautiful photo and share it online. Join us
here
and show the world wide web what you got.
It has been ten (10) days after that unpleasant blizzard that we're not expecting to happened. Then yesterday, we got the snowstorm all day and all night. The last time I checked my calendar, March 20th is the first day of Spring. According to reality, where I am right now, Spring hasn't sprung.
Just look at the beautiful pictures I posted, the snow wasn't too bad at all. In spite of the fact that it's the clash of the season, the beauty of white is surprising!