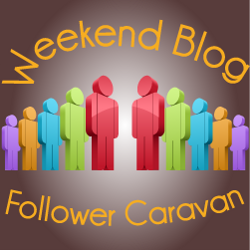 Here we go! Before anything else, I made sure that I read the instructions carefully so I won't be deleted and ignored. As I said to my previous post (
Change is Go
od!
), that I am still in a learning process. Any tutorials are very welcome. Thanks!
I am Hazel from North Dakota. I started blogging May 2008. Been married for three years and six months to my American husband. We are happily in love and we do things together all the time, everyday. I love to travel, see things and explore places I've never seen. I work as a receptionist in a campground for six months and I am on vacation for six months - meaning, I am financially independent for six months only. I do a lot of saving. Money does not grow on trees. I love to read books (Danielle Steel and John Grisham's novels ) and watch movies. I can cook too!
Weekend Blog Follower Caravan is a simple online blogger-helping-blogger weekly meme. It was designed for bloggers to help each other in terms of blog followers either through Google Friend Connect and email subscribers.